A campsite with swimming pool complex on the Costa Brava
A swimming pool area beside the beach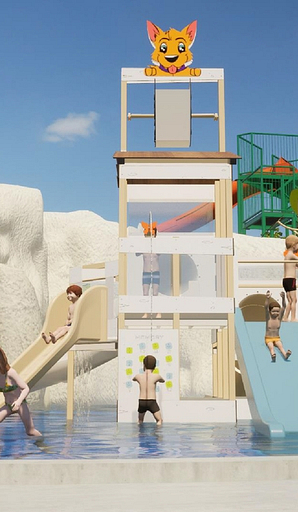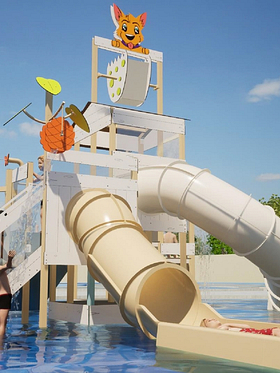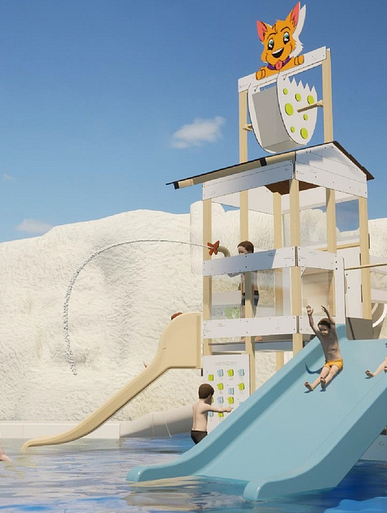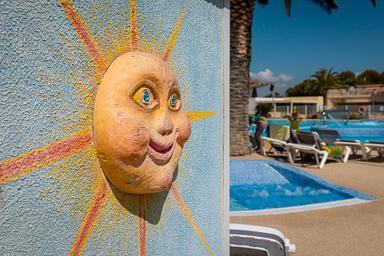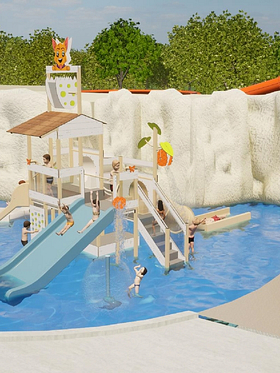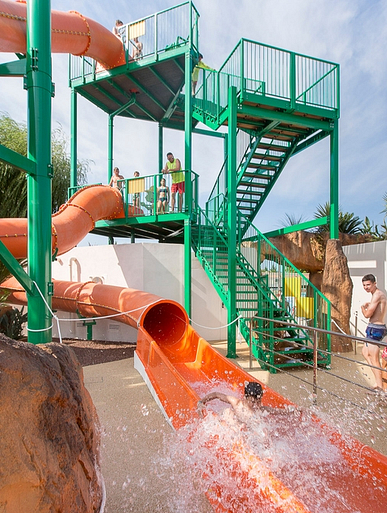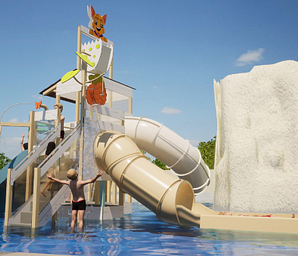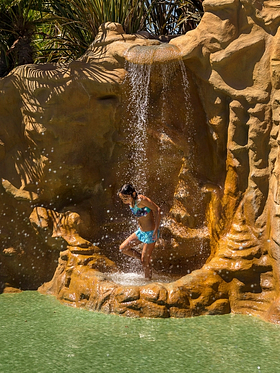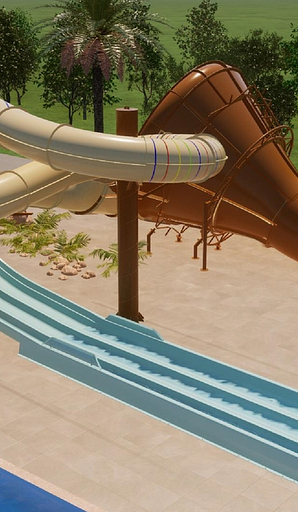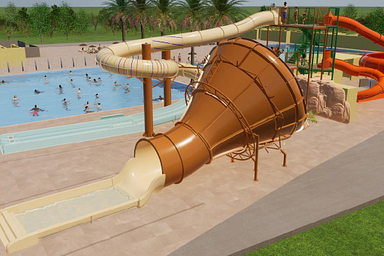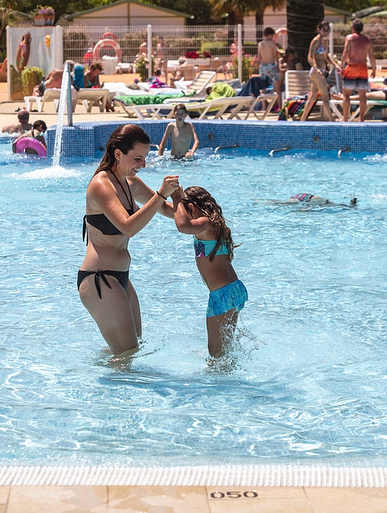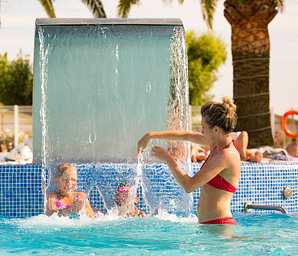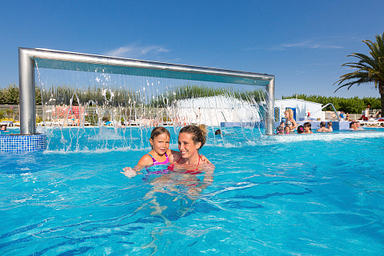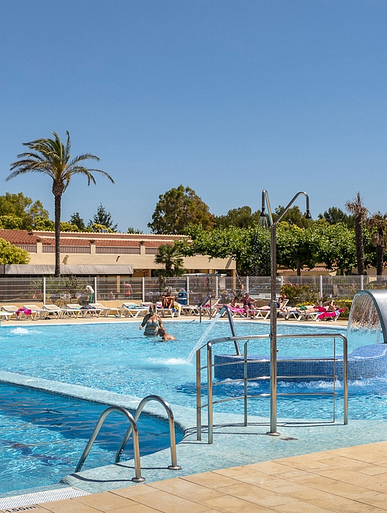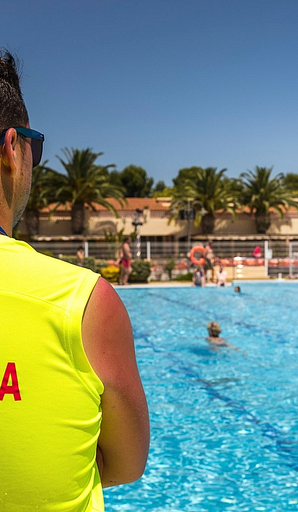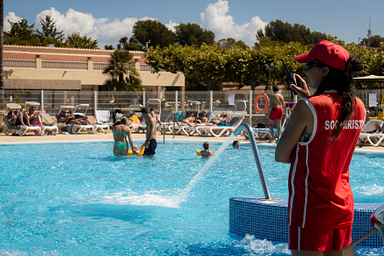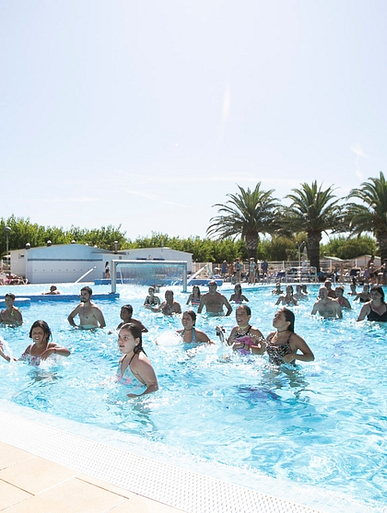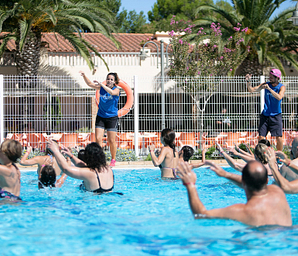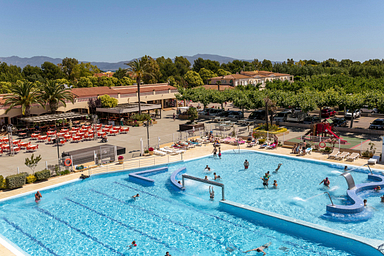 Home
/
The swimming pool complex
Costa Brava campsite with swimming pool
The swimming pool complex
In 2024 discover a brand new swimming pool complex at Amfora!
For the 2024 season our swimming pool complex is getting a makeover! With the very latest equipment and its fun-packed pools, you will now be able to enjoy a swimming pool area at the campsite which is one of the most modern and sensational in Spain!
Thrilling slides, water-play areas for children and new pools even larger than the previous ones, a completely renovated and enlarged swimming pool complex is waiting you at our campsite on the Costa Brava.
With the Slide and the Mini Body Magicone there are two totally different and complementary slide experiences available to you. The first one is suitable for all ages, with its three slide options, while the second is reserved for those with stronger nerves! With its tubes and its cone, visual effects along the way, and a sensation of increasing speed, this is a truly immersive experience for you to enjoy. These two new slides are in addition to the previous existing slides, one of which puts thrill-seekers into a giant funnel!
As for the youngest children, they can enjoy a brand new water garden with a shallow pool in the middle of which is an water-play structure with slides, a water spout, a water dragon and many other facilities all equally fun to enjoy!
In addition to the large swimming pool attached to the balneotherapy / spa pool, we now offer an impressive lagoon pool. Many deckchairs around these pools allow you to relax at the water's edge, while a brand new building houses changing rooms and washrooms for children, adults and persons with reduced mobility. This building also includes a launderette and shaded parking for bicycles.
Finally, to ensure that the pools are accessible to everyone, we have special pool chairs for PRM.
Our campers put it best!
"It's very nice to be able to vary your surroundings by changing pools!
Personally, I prefer large the aqua leisure pool with the jacuzzi jets."

Katharina
Amsterdam, age 38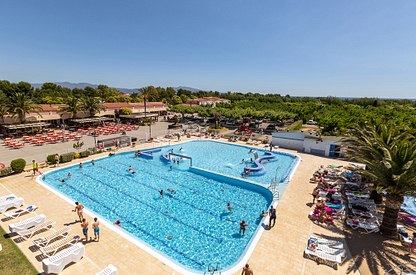 A large swimming pool
If you like swimming lanes, you'll take to this like a fish to water when you dive into the large swimming pool, located right next to the balneotherapy / spa pool.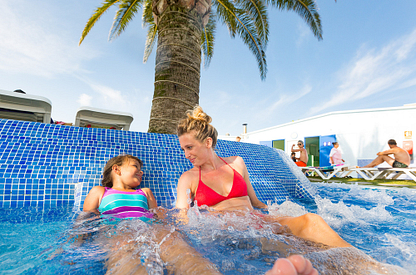 Jacuzzi pools
Take a seat on one of our anatomical benches and just relax and enjoy the thousands of tiny bubbles which will gently soothe your body.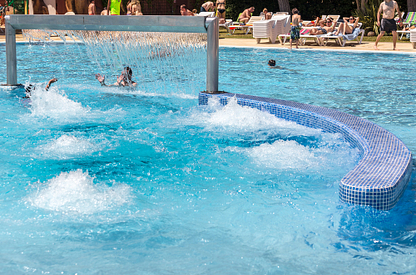 A brand new lagoon swimming pool
Come and relax in the sun in a brand new pool with a surface area of 700m².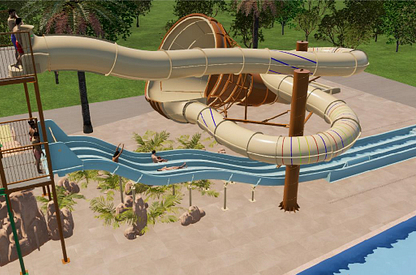 Thrilling slides
With our two new slides installed right next to the "Volcan Twist" and the "Amfi Splash", come and enjoy your share of thrills. Guaranteed fun for all ages!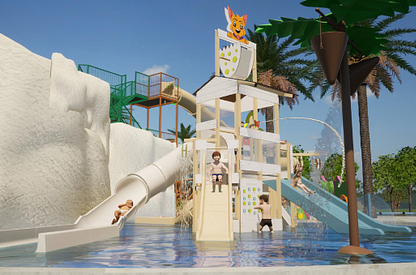 A water garden for children
With a pool just for them including 4 slides, water games, and even a dragon as well as Amfi, the site's mascot, the little ones will have hours of fun under the Costa Brava sun.
Nota Bene
To preserve water quality, we recommend taking a shower before accessing the pool.
During opening hours the swimming pool is supervised by our lifeguards.
Campsite swimming pool complex Spain
Little delights
& large slides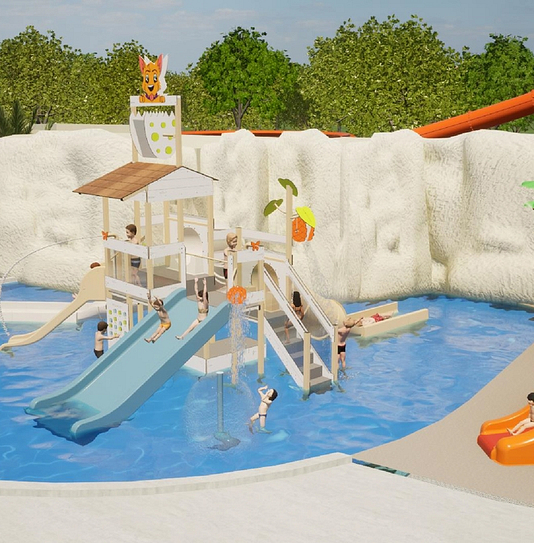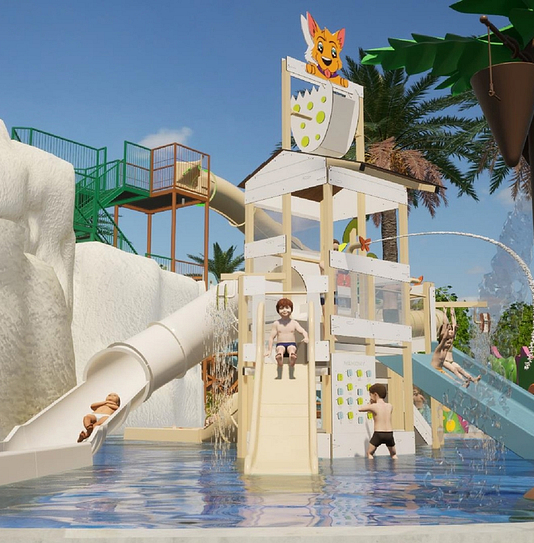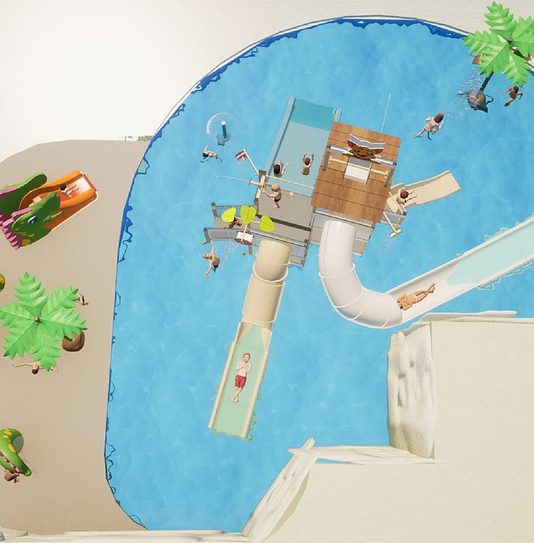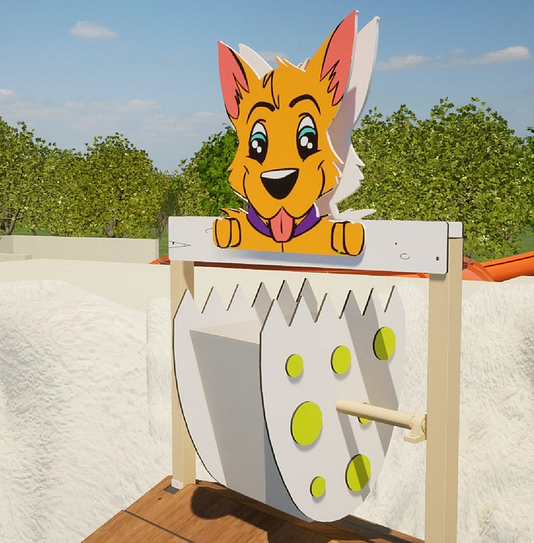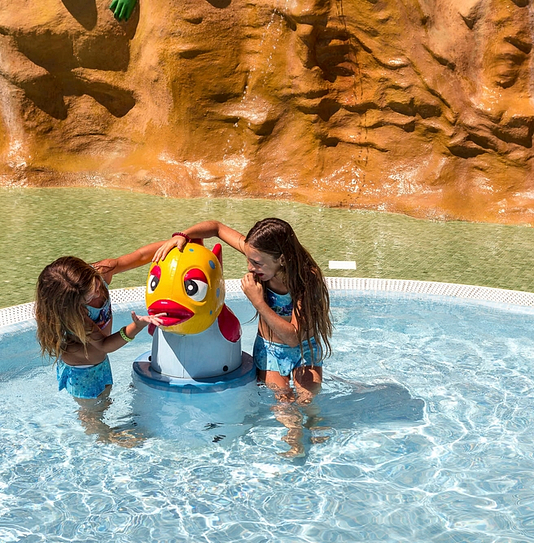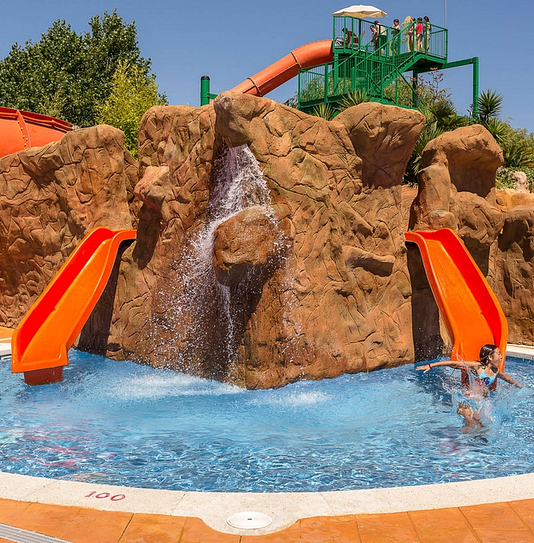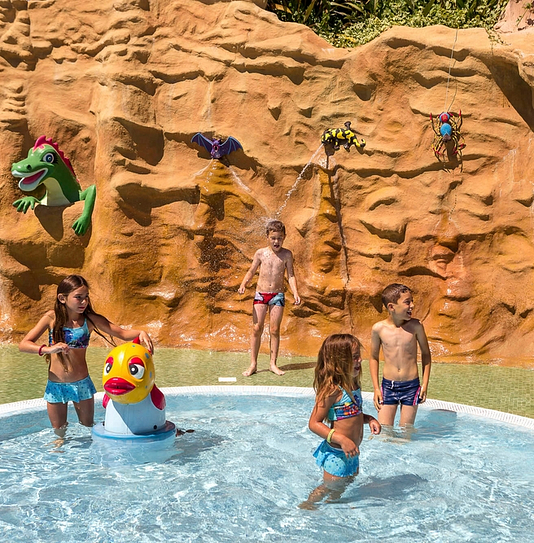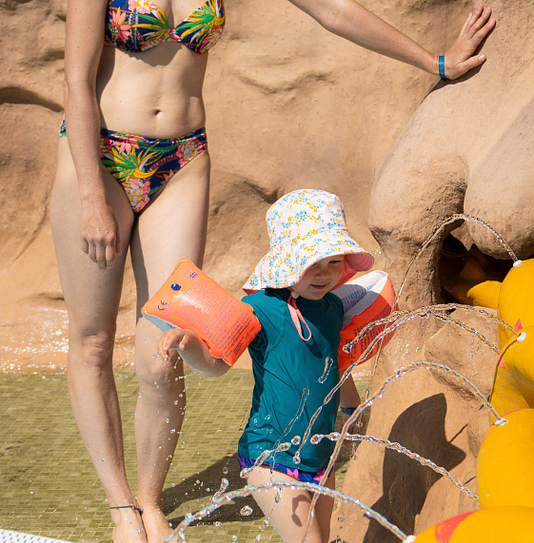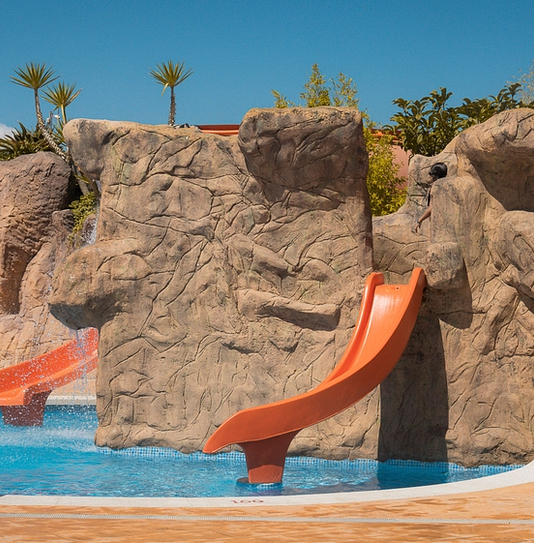 In 2024 you will find a water garden and an water-play structure with slides for your children to enjoy!
To make your life easier, our Costa Brava campsite with swimming pool complex provides a washroom block with changing table directly on site as well as a launderette if required.
Maximum adrenaline and sensations with our water slides
While one is fairly calm, the other, however, promises to be much more of an adrenaline rush…
Indeed, among the new 2024 features of our swimming pool complex you will find a "pentagliss" slide with 3 lanes for all ages. Plenty for enjoying pleasant moments with family or friends!
You can also enjoy a sensational slide, in which the cone takes the shape of an amphora, a reference to the name of our campsite, bringing together several enjoyable slide experiences including visual effects once you are inside. Please note that this facility is reserved for an informed audience.
The "Volcano Twist" and its little brother the "Amfi Splash", our two "historic" slides, are still in place and have lost none of their interest and the pleasures they can provide!
The welcome will be provided by our dear "Amfi" present on the signs: he has donned his explorer's gear to inspect the water slides and ensure everyone's safety and enjoyment.

He also enables you to measure your children's height in a playful way, to confirm that they are allowed to climb the steps safely.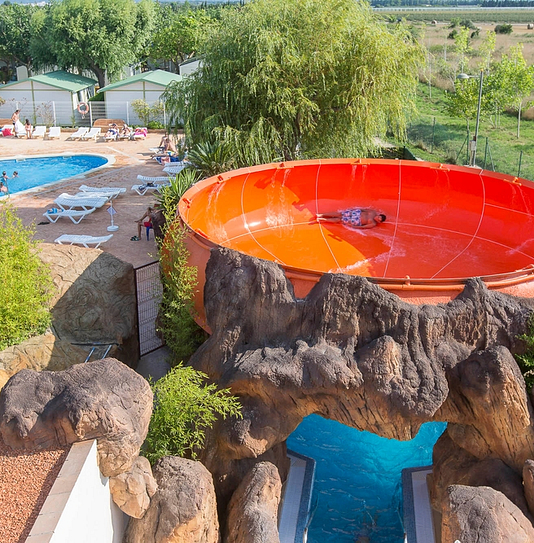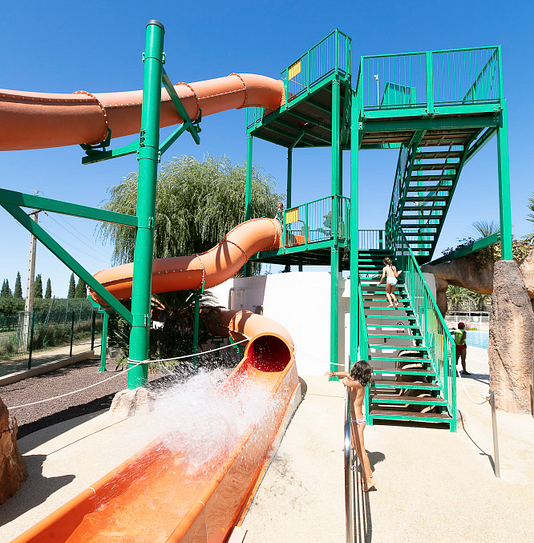 If you reach the top of the "Volcano Twist" or the "Magicone" you will have a double surprise: from 8 metres up, you will enjoy a superb panoramic view of the Bay of Roses and once you have started down the first slide a landing in the volcano-shaped space bowl below awaits you.
No need to climb to such heights to enjoy this impressive facility since, a little lower down, the "Amfi Splash" and the "Slide", allow you to climb up to 3m and then come back down just as dry (in a manner of speaking, obviously!) roaring with laughter.
And for those who prefer water sports or swimming in the sea, the Mediterranean is right beside you…
With the Mediterranean Sea right next to our Spanish campsite with swimming pool complex, the pleasures of water are not limited to our pools and our 4 slides – just a few steps will bring you to a vast sandy beach with its exceptional views, where you will discover the superb Bay of Roses, from Torre de Montgo to Cap Norfeu.
With its clear and shallow waters, you can enjoy various water-based activities, including kitesurfing which is very popular in Sant Pere Pescador, or simply enjoy the pleasures of swimming and relaxing on the beach.
The Catalan coast, its heavenly beach and the swimming pool complex at the Amfora campsite provide you with all the ingredients for a wonderful stay in Spain.