A 4-star campsite in Spain
All the services
of a 4-star campsite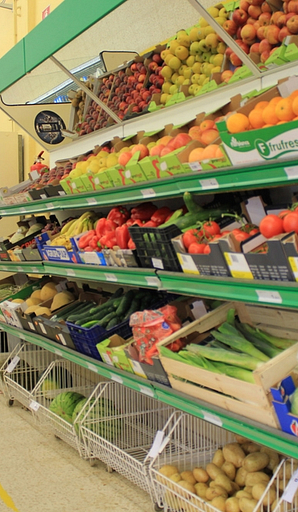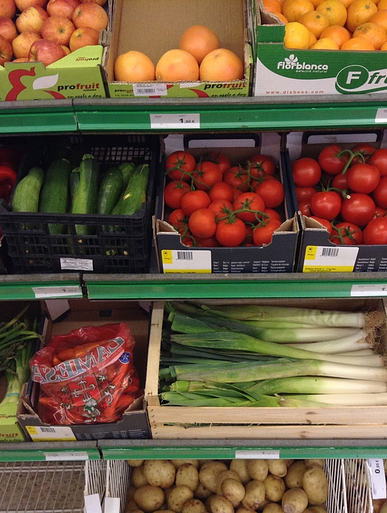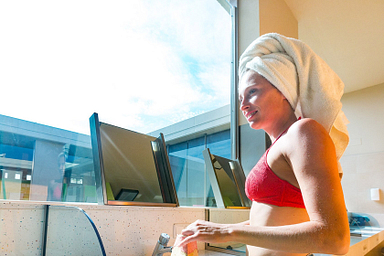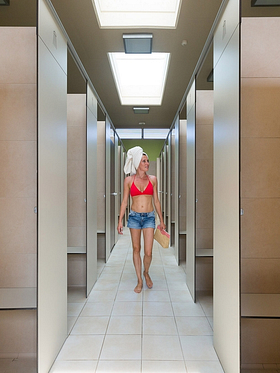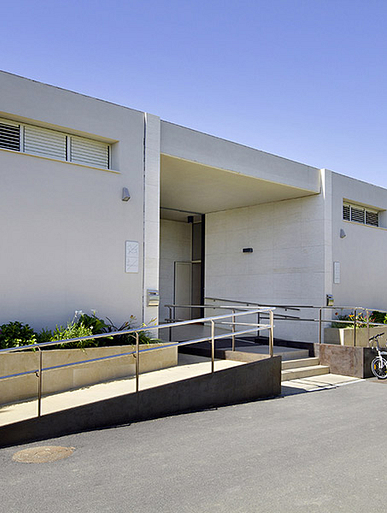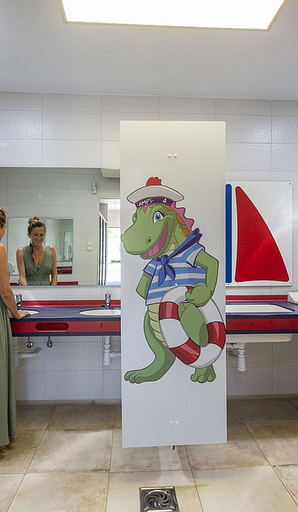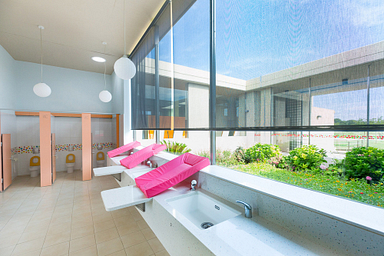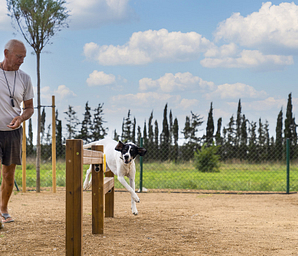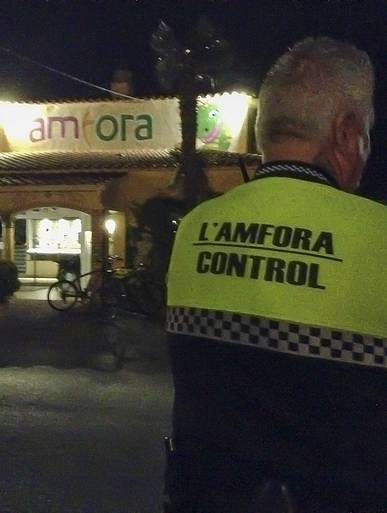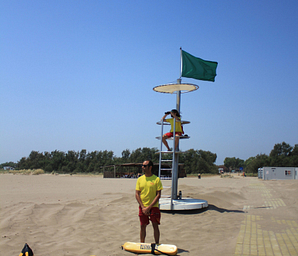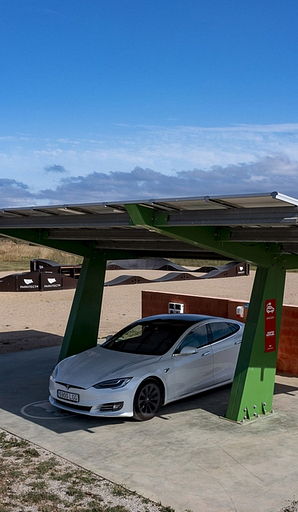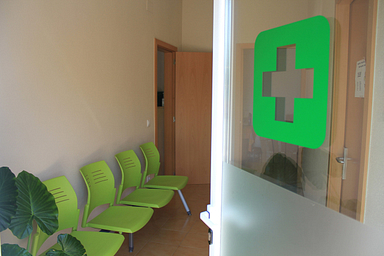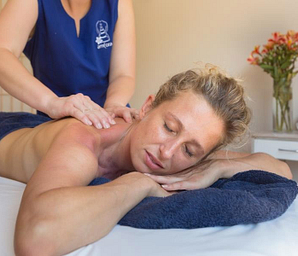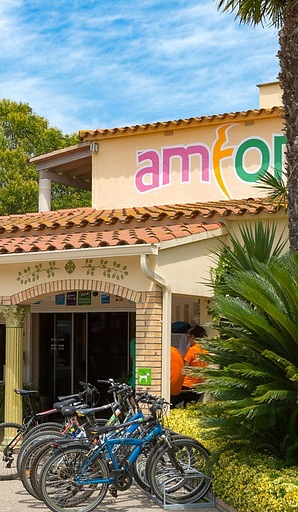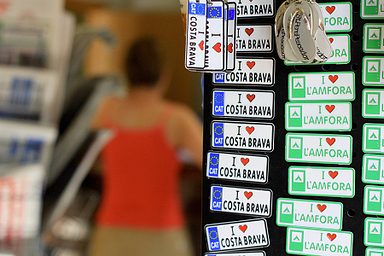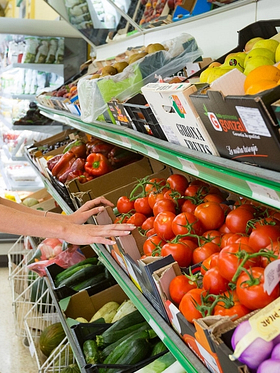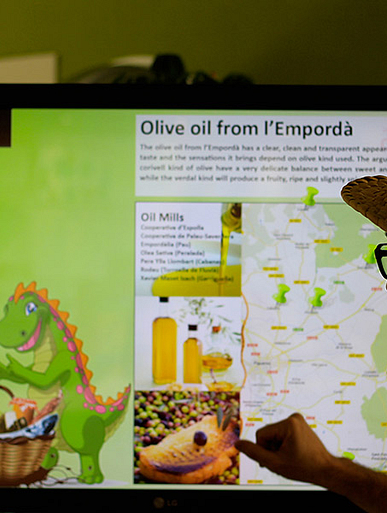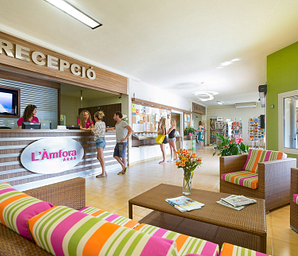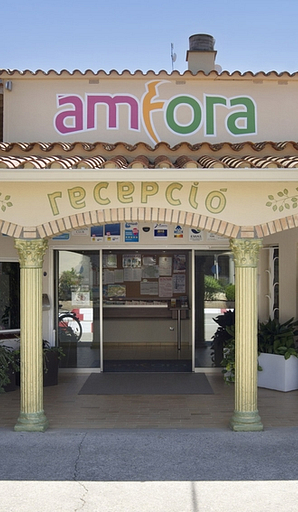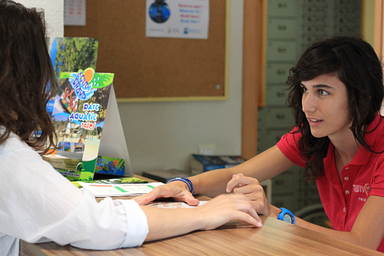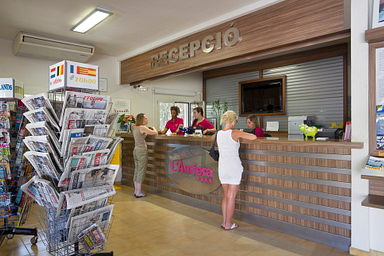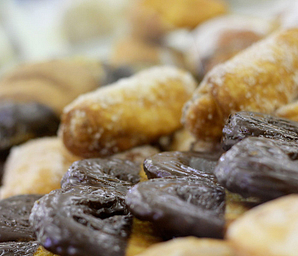 Want for nothing on our campsite in the Costa Brava
All your services are on-site to make the most of your holiday in Spain, without needing to go out
Finally on holiday, you've put down your bags without even unpacking them, to run to the beach. As you definitely intend to make the most of your holiday in Spain on the Amfora campsite.
You're right to do so and you can enjoy a whole range of services and shops, to make your daily life easier. The holiday is sacred, so you make the most of it with everything on-site! Bread, shopping, the launderette, tourist information., an ATM, you'll find everything on-site, no need to take the car anywhere.
For unwinding, having a drink, eating, relaxing, playing sport, our Amfora campsite offers you the best campsite facilities on the Costa Brava.
All our services at a glance
at reception
Reception open 7 days a week
Post box
Safe-deposit box service
Tourist information point
Shops
Supermarket
Bar-restaurant & snack bar
Chiringuito beach restaurant
Jardinet restaurant
Souvenir shop
Hot food area/bakery
Wellness area
Games room
other services
Security service 24/7
2 ATMs
Medical service
2 launderette/laundry areas
Swimming lifeguards
Electric charging points
Dog agility course
sanitary facilities
3 adult sanitary facilities
Special children's sanitary facilities
Motorhome discharge (grey waste)
Dog showers
Reception on the Amfora campsite
Our receptionists
attend to your every need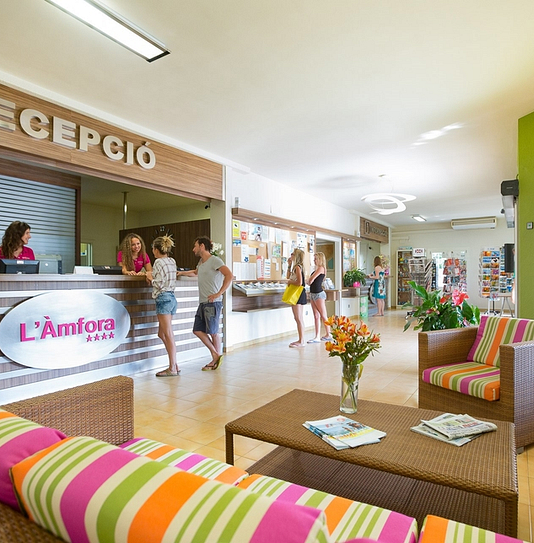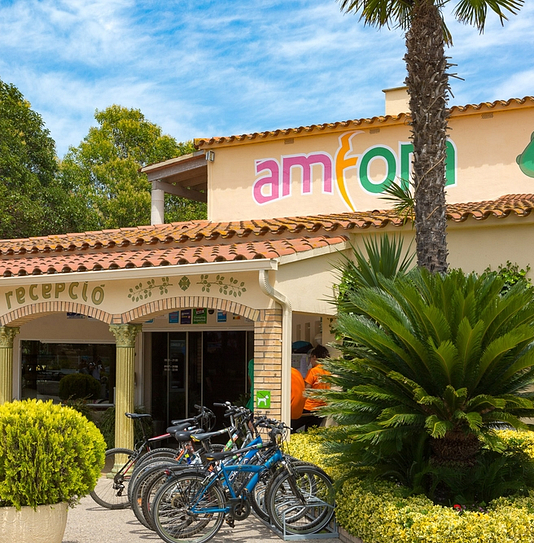 From your arrival, you'll enjoy our sense of welcome and we'll be happy to help you throughout your entire stay
Open all day
in the high season until 10 p.m.
As your holiday on the Amfora campsite in Sant Père Pescador starts from your arrival here, we're keen to give you a warm welcome. Welcome and availability are the values which motivate our multilingual receptionists throughout the entire season.
Open throughout the day until 9 p.m. (10 p.m. In the high season), the reception on the Amfora campsite, located in Sant Père Pescador in Catalonia is an essential location for all practical aspects of your stay. Upon arrival, all the necessary documents will be given to you by our receptionists, including the wristband in the campsite colours to wear during your stay. This will give you access to all the facilities and take part in all the activities with complete peace of mind.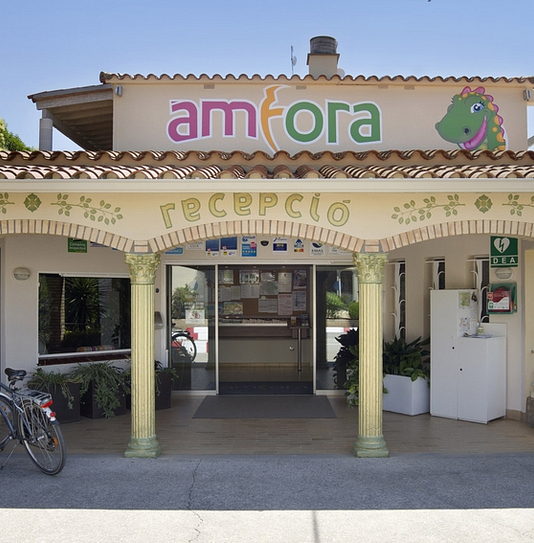 On-site still at reception, the ATM, post box and other services are available to you.
In addition, make the most of it to go to the Information Point, located right near the massage area. A bilingual Spanish/English team welcomes you here, enabling you to organize certain activities for your stay. It is quite simply the nerve centre on the Amfora campsite in Sant Père Pescador, no doubt it will prove essential for your stay! By the same token and again with the aim of making your holiday easier, go to the Information Point in the Amfi shop.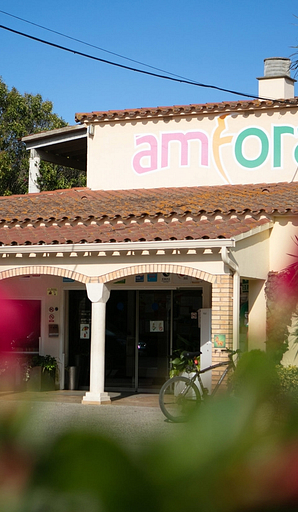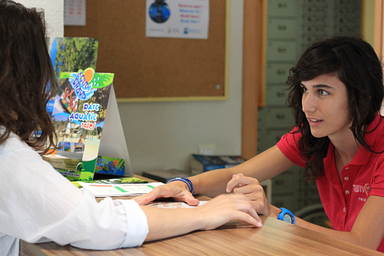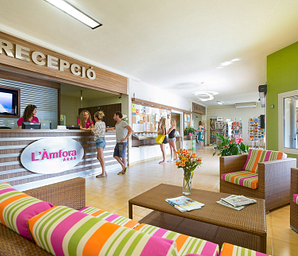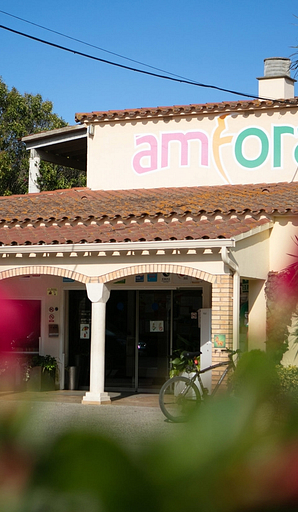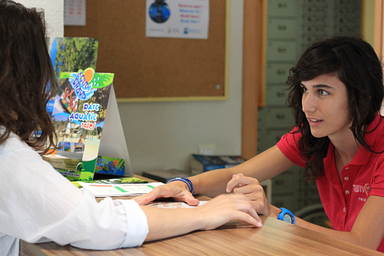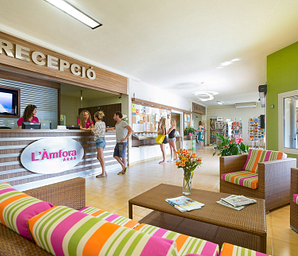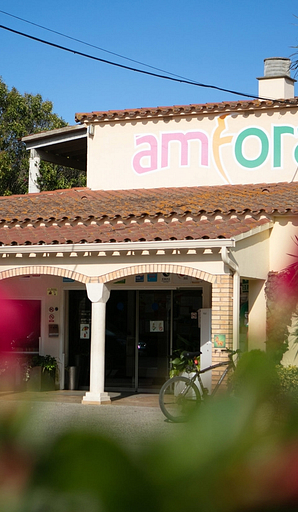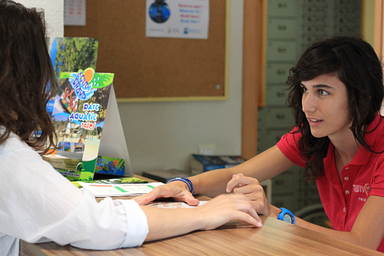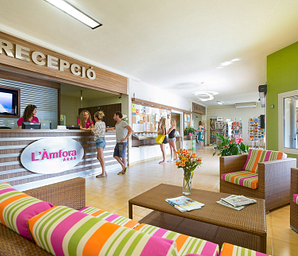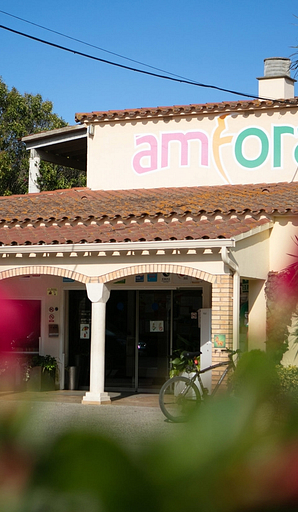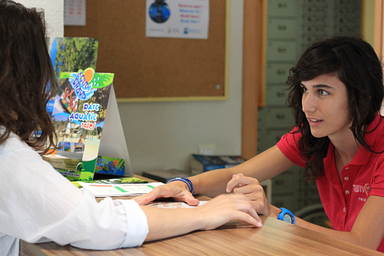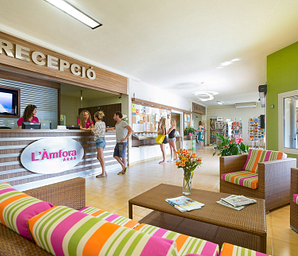 Souvenir shop and information point
Leave with superb souvenirs
of your holiday on the Costa Brava!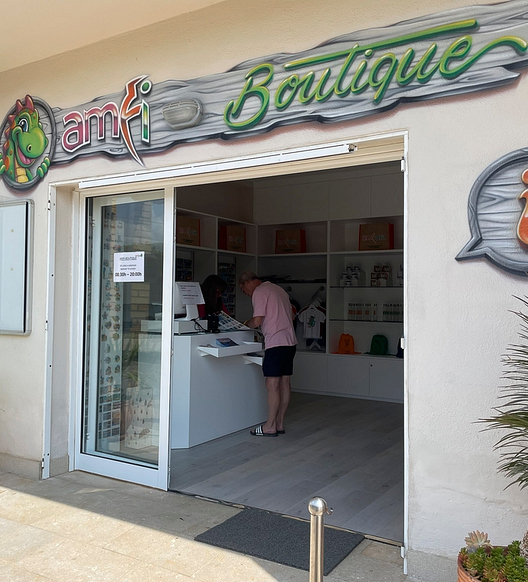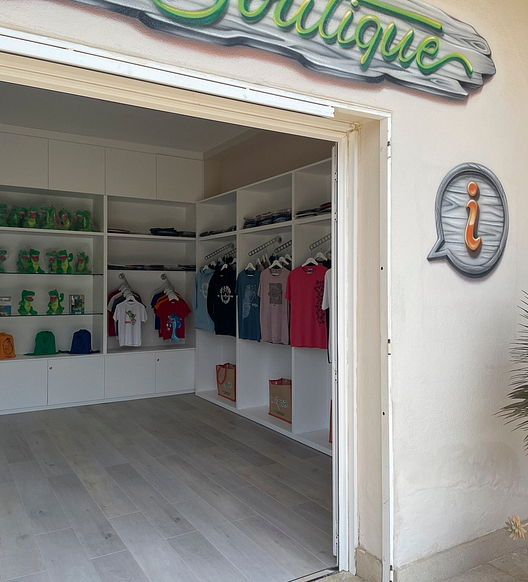 Located near the massage area, discover our shop!
Whether you're looking for a unique souvenir or you need practical information, this multi-purpose area will meet all your needs.
On-site, you'll particularly find here a varied selection of souvenirs, ranging from magnets and key rings to T-shirts bearing the distinctive campsite logo.
A superb opportunity to spoil your loved ones and bring back wonderful holiday souvenirs.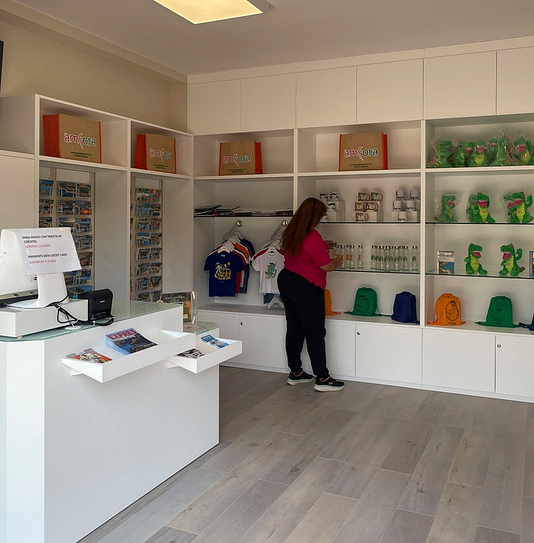 However the shop is not just restricted to purchases.
It also has an information point, to help you organize your stay on the Amfora campsite as is appropriate.
Our friendly and competent staff are on hand for you to answer all your questions, and provide you with useful advice on the activities, must-see attractions, local culture and much more besides.
Thanks to their detailed knowledge of the region, they'll be able to guide and direct you, to enable you to fully make the most of your holiday.
Do your shopping on the campsite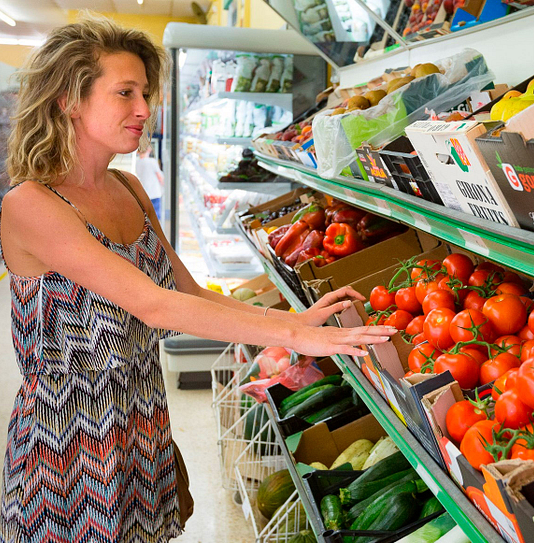 Everything you need, right on-site!
Perfect to tide you over or stock up with shopping.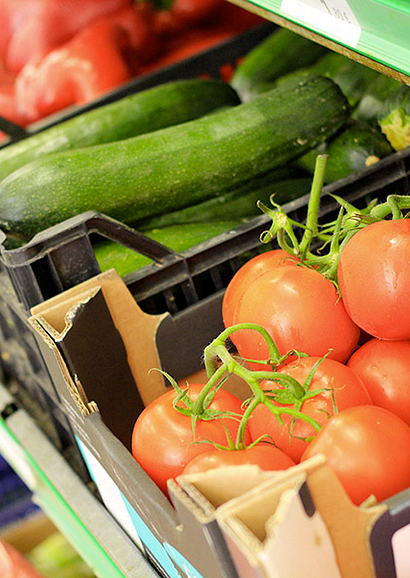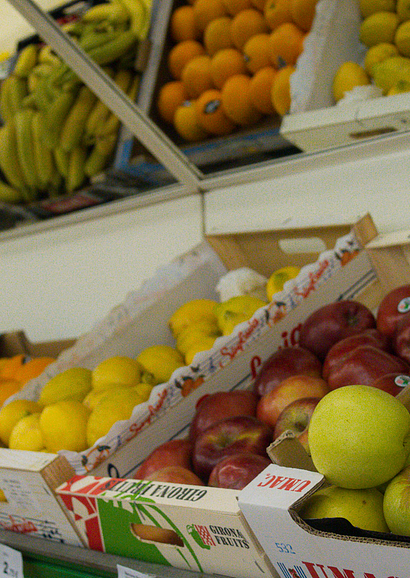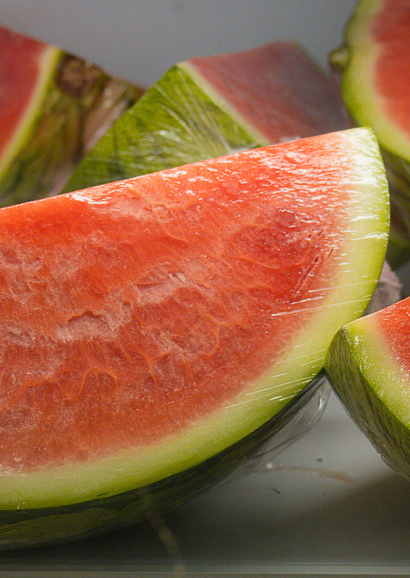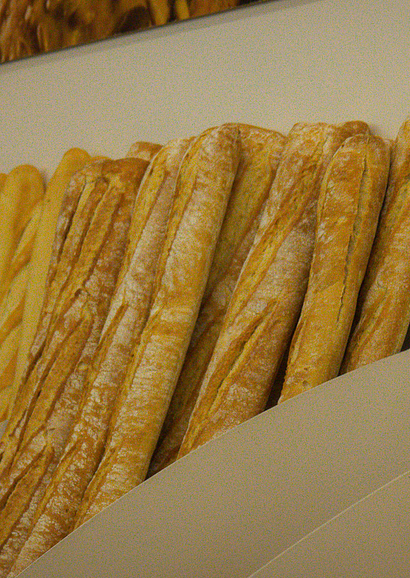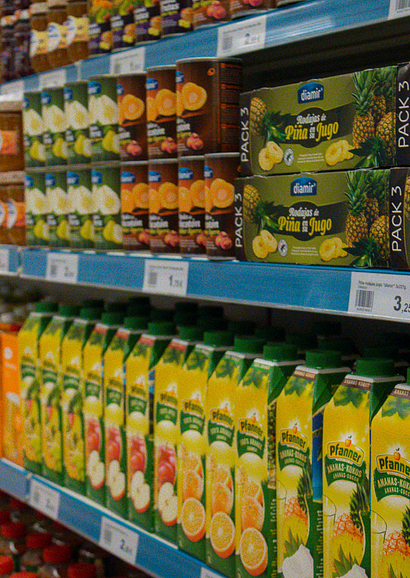 We ensure that your holiday is a genuine time for unwinding and relaxation. For this reason, more than just a grocery we offer you a supermarket in excess of 600 m2. Located in the heart of the campsite, it is open throughout the entire season.
You've packed your bag in haste, and having arrived on the campsite, are you now regretting a few minor oversights? No worries! We've thought of everything to tide you over: camping equipment, gas, children's swimming essentials, games, salty snacks for serving with drinks…Our years of experience enable us to better anticipate your least request and offer a suitable solution!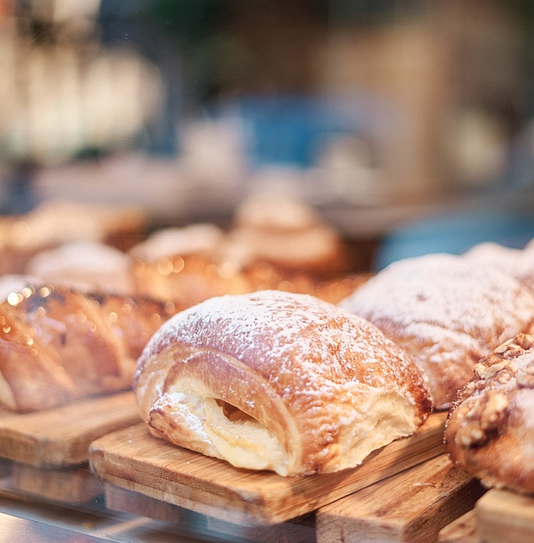 Would you like breakfast on the terrace? Every morning the bakery section offers you fresh bread, and a selection of sweet breads and buns.
For grills, the butcher's section will delight lovers of excellent meat. Gourmets will also enjoy our selection of cheeses.
If you don't wish to cook,
come this way!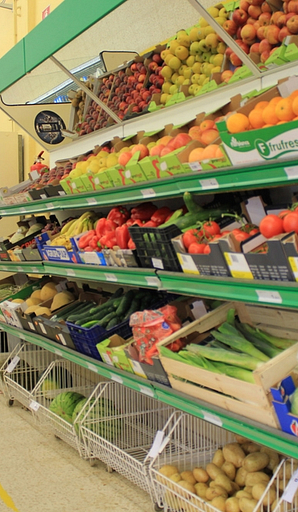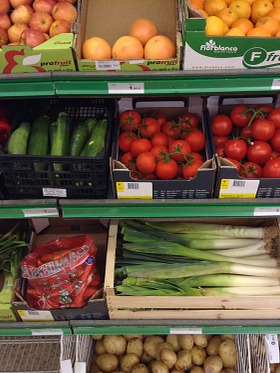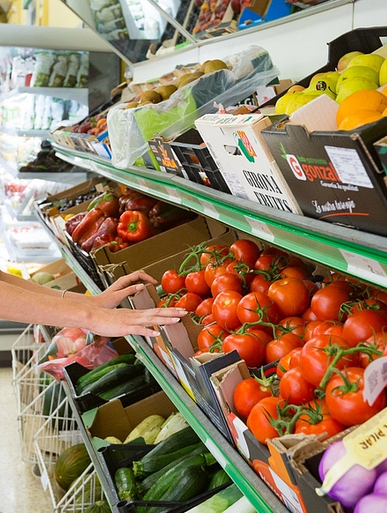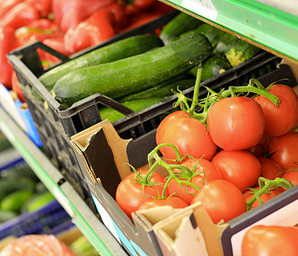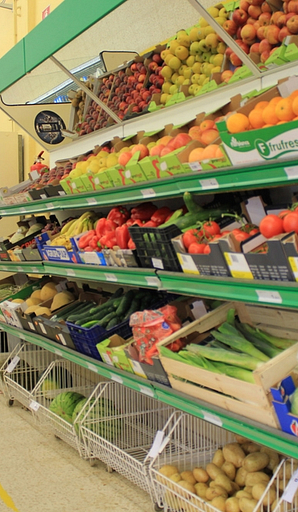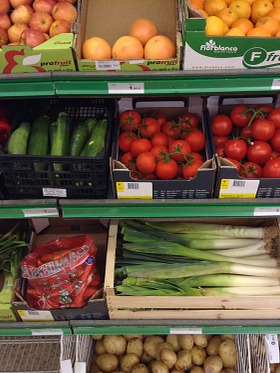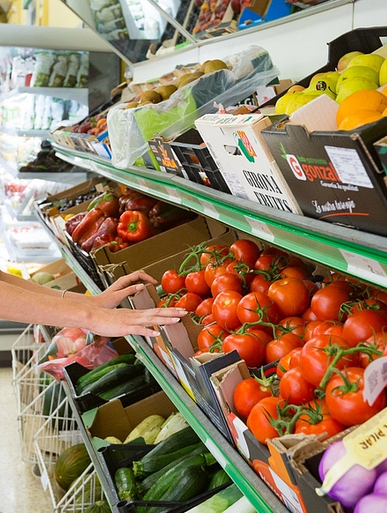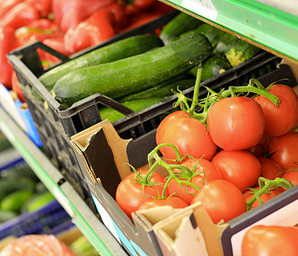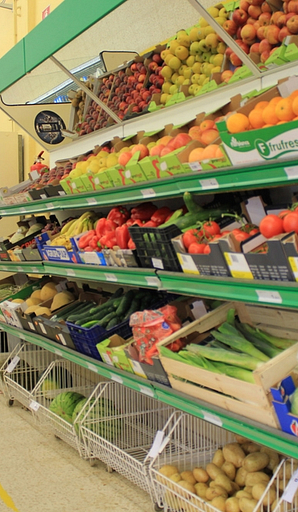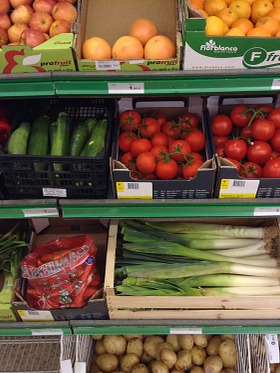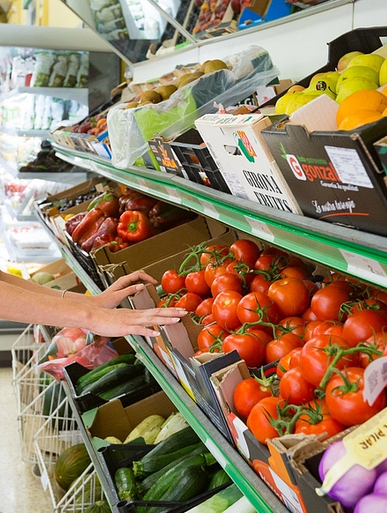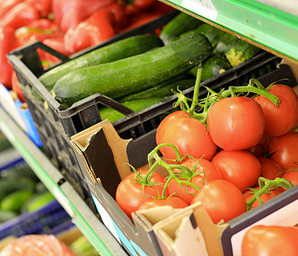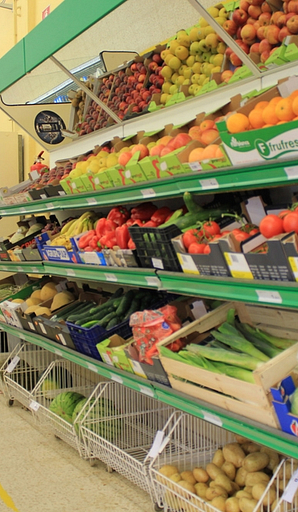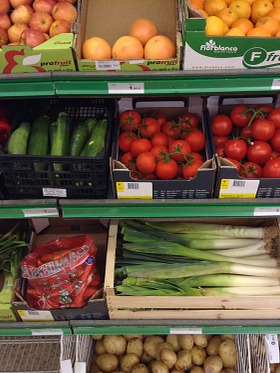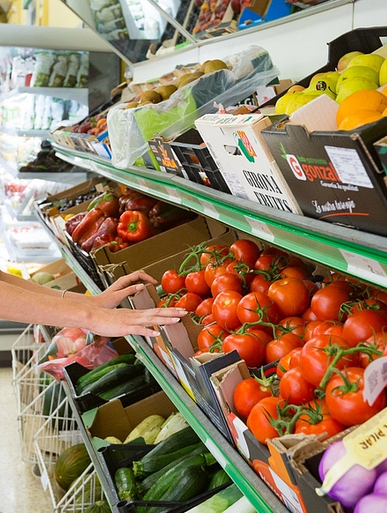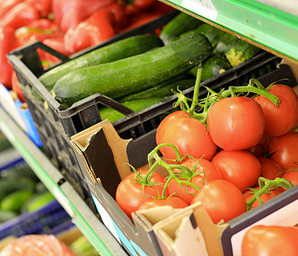 Campsite with premium sanitary blocks
Impeccable sanitary facilities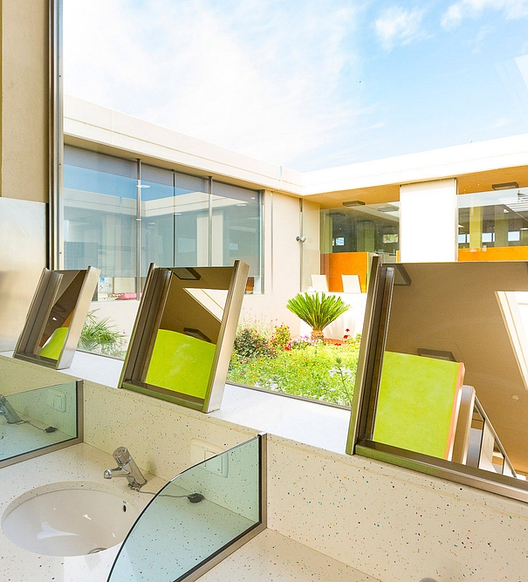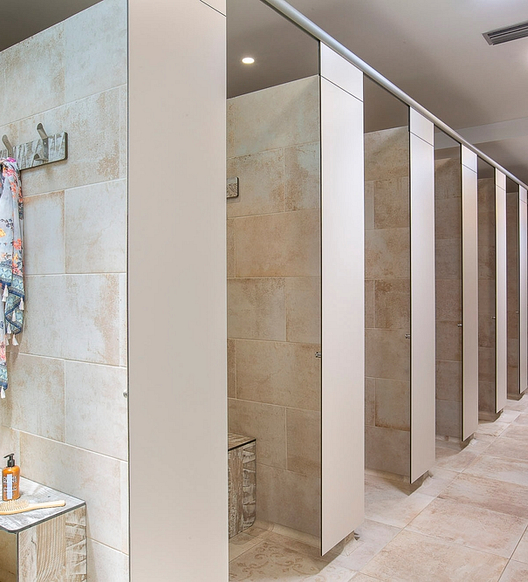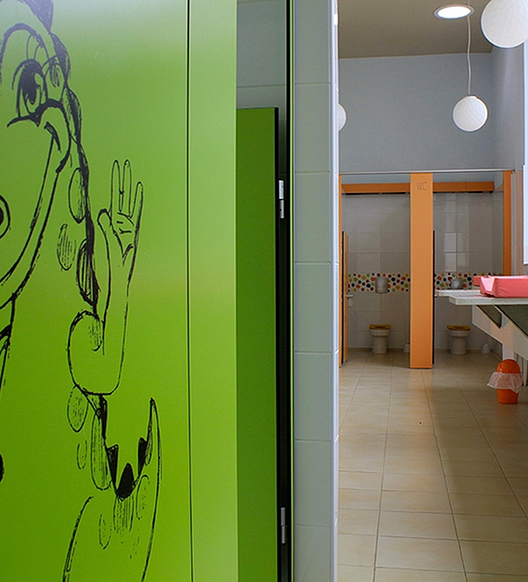 Our commitment that the sanitary blocks will be impeccable throughout the entire day, the guarantee of our Amfora campsite.
The sanitary blocks are open non-stop in the high season, with a cleaning service from 6 a.m. to 10 p.m.
Our campsite has 4 sanitary blocks, well spread out near all the pitches. Each enjoys a patio in bloom, as with the houses in the region…
Cleaned several times a day by our teams, our sanitary blocks have impeccable cleanliness, throughout the entire day.
All accessible to persons with reduced mobility, they're equipped with showers, WCs and adapted sinks.
Furthermore, they have family cubicles, vast and well lit for the entire family.
Lastly, note that some of our pitches are equipped with private sanitary facilities, exclusive to Amfora!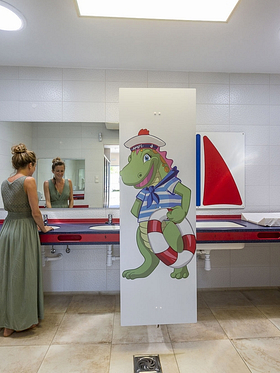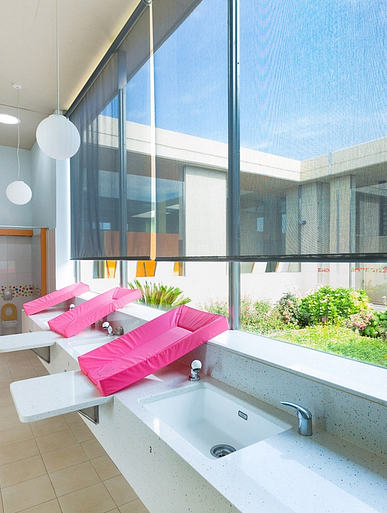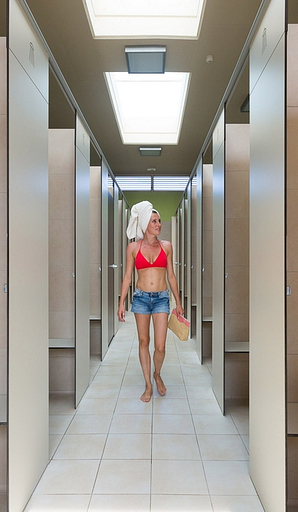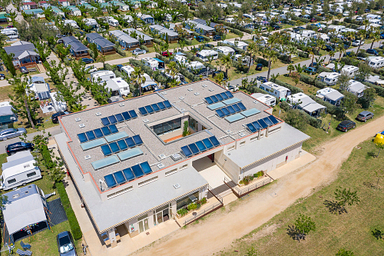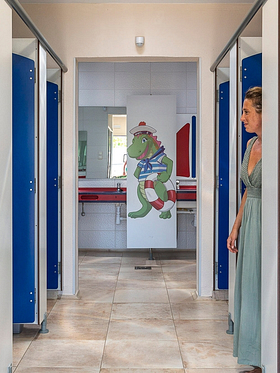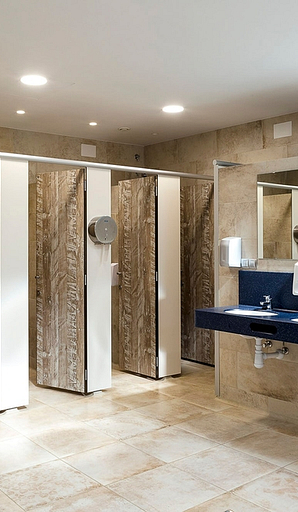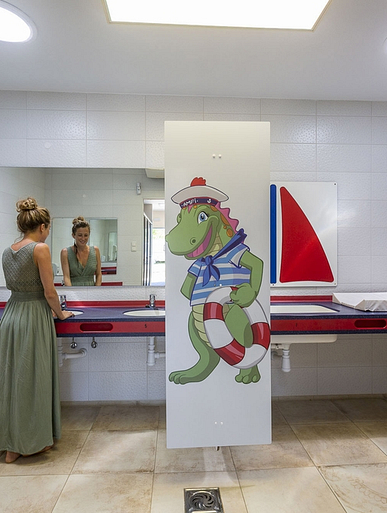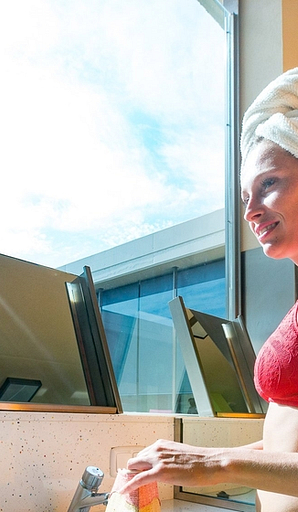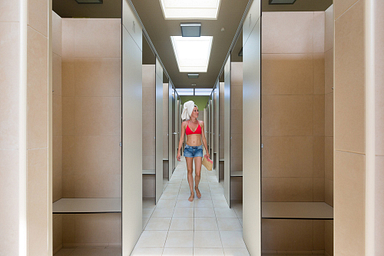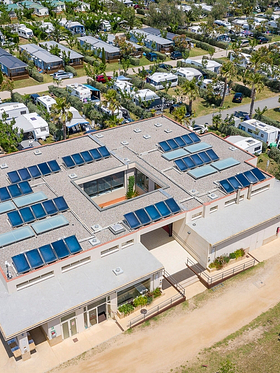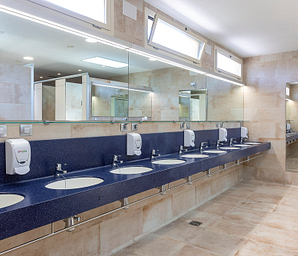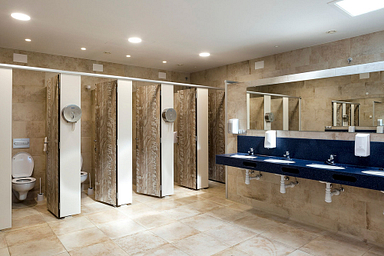 Children's sanitary facilities
Colourful sanitary blocks
specially designed for children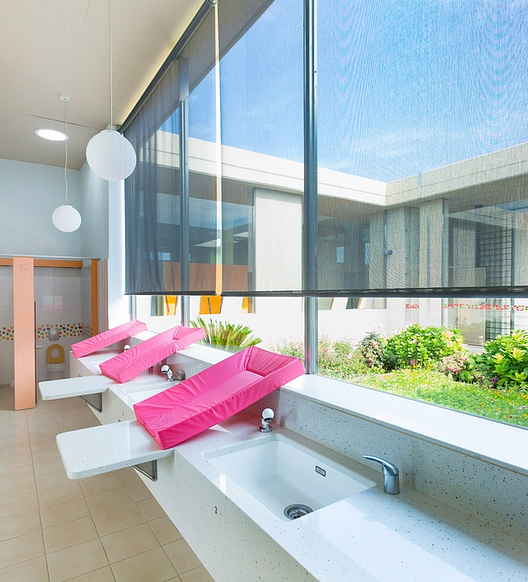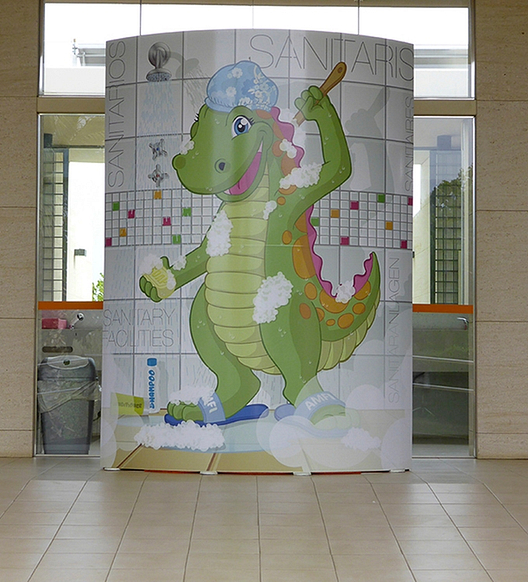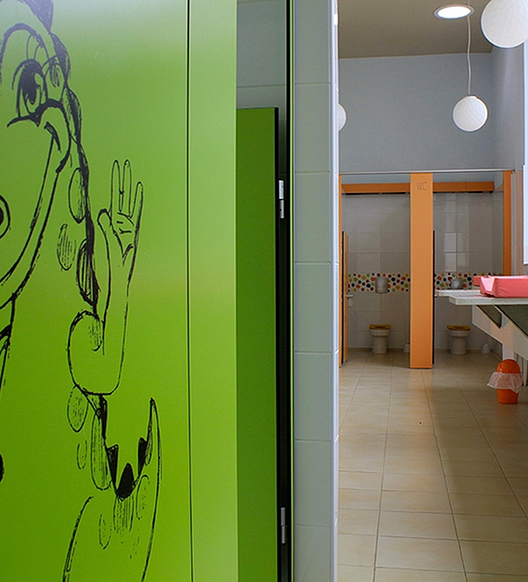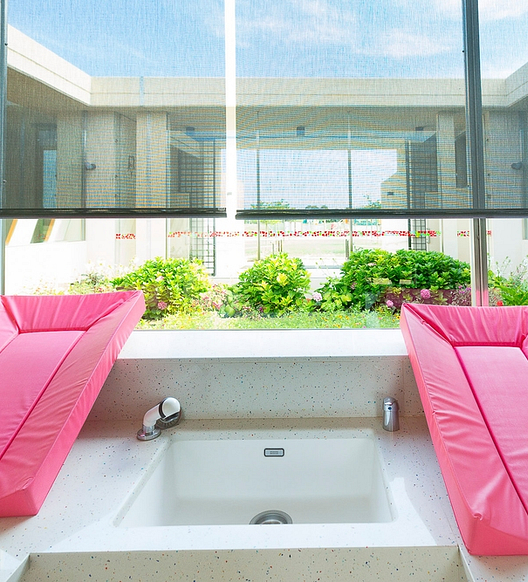 Sanitary blocks with all modern conveniences for adults…and children alike!
As you often come to l'Amfora as a family, we've adapted our facilities for your children. On our campsite on the Costa Brava, specially adapted children's sanitary blocks are therefore on hand for them, so they can make the most of the holiday having complete independence. Showers, washbasins, toilets…everything has been designed for their height to facilitate their access to these essential services.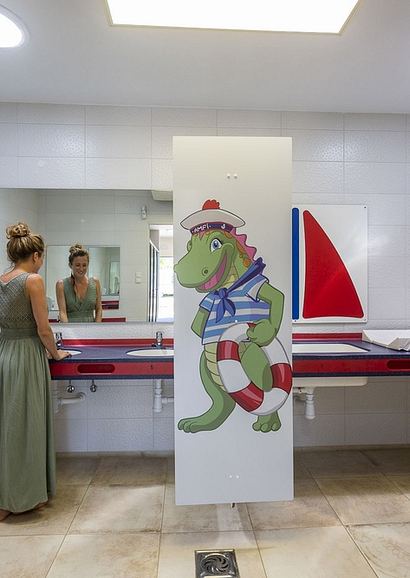 Bright, secure, warm and cleaned throughout the entire day, the Special children's sanitary blocks are a comforting location, where youngsters can easily go when they need to.
Babies (and their parents) have not been forgotten: we provide changing tables for them, with a view over the planted patio.
Motorhome
discharge areas
There are several discharge areas (grey waste)
to facilitate the life of motorhome users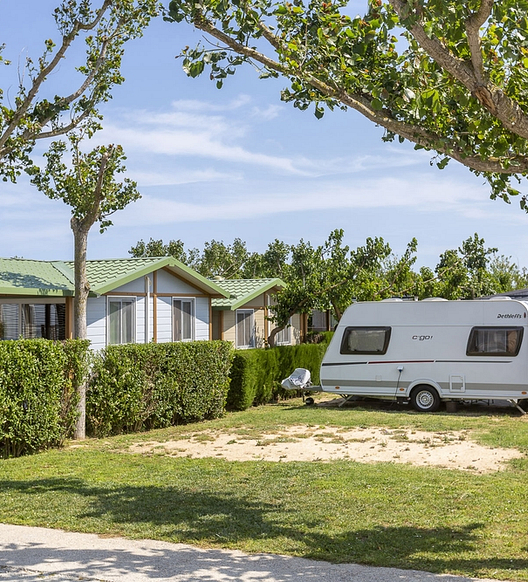 Within our establishment, find nearby plots intended to accommodate motorhomes and vans with different discharge areas for your vehicle.
Campsite in Spain accepting animals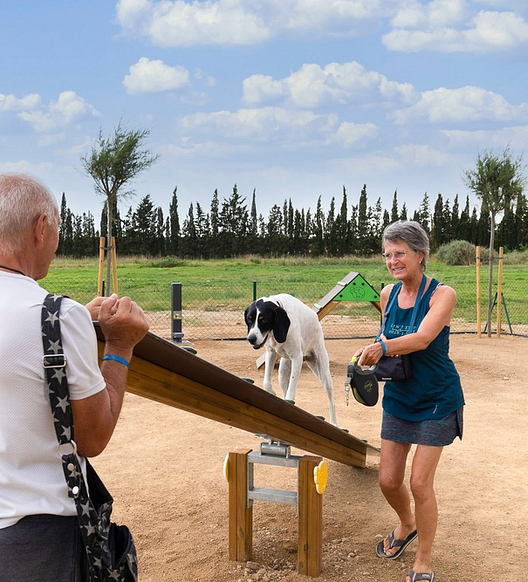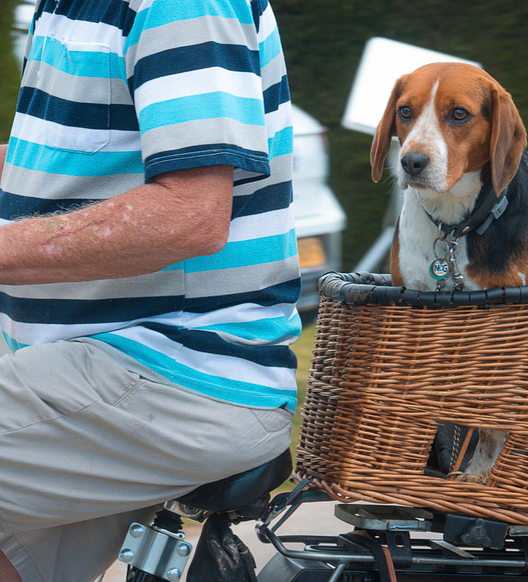 Numerous services and facilities adapted for our friends the dogs
Dog showers are on hand for you.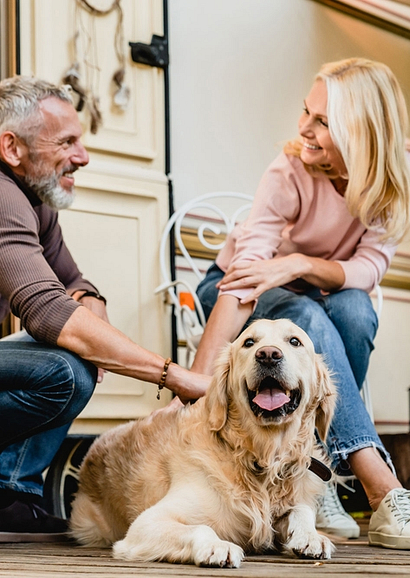 Do you wish to go on holiday whilst making the most of having your pet with you? Be aware that our dog-friendly campsite in Spain is open to you!
Located on the Costa Brava, we're delighted to welcome you in the heart of our campsite, for an invigorating holiday. On the Amfora campsite, you can book accommodation and stay there with your dog.
Our campsite makes the most of a multitude of services and facilities adapted to dogs, for everyone to have a relaxing holiday.
Why not be tempted by our Sunny Dog mobile homes? You'll enjoy all the necessary comfort and can accommodate your dog, with all space you and your family need during your stay.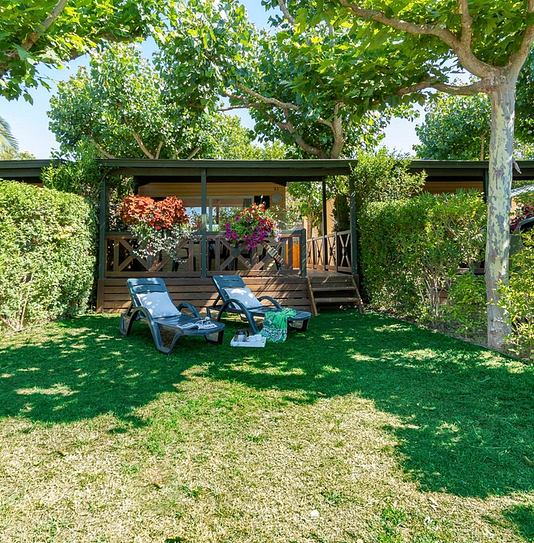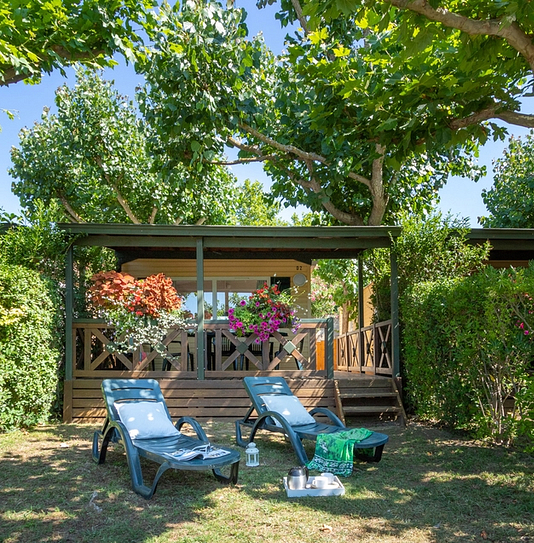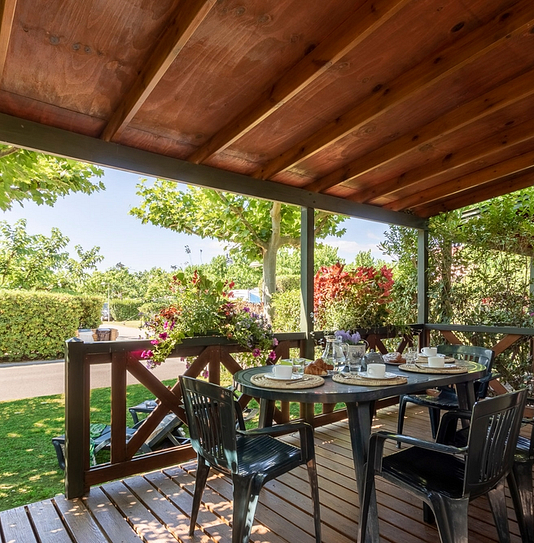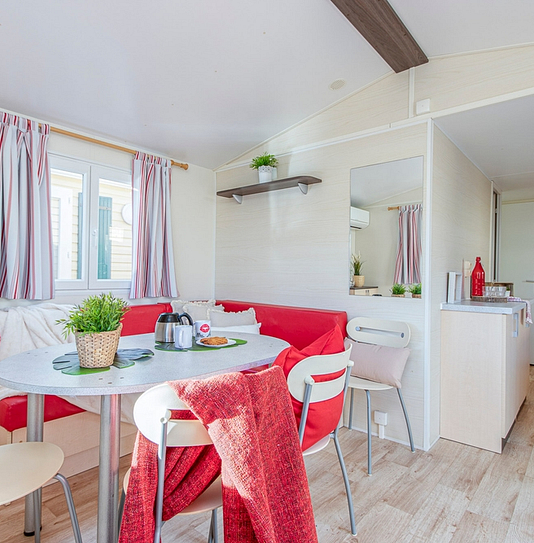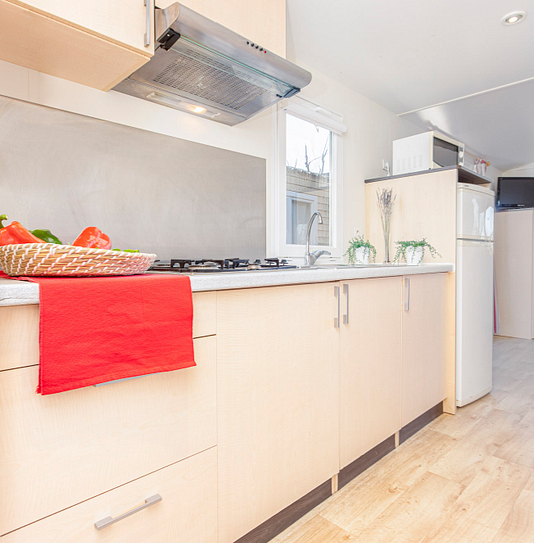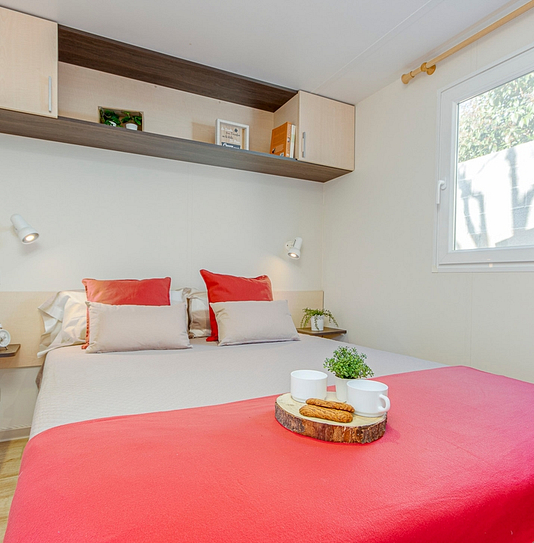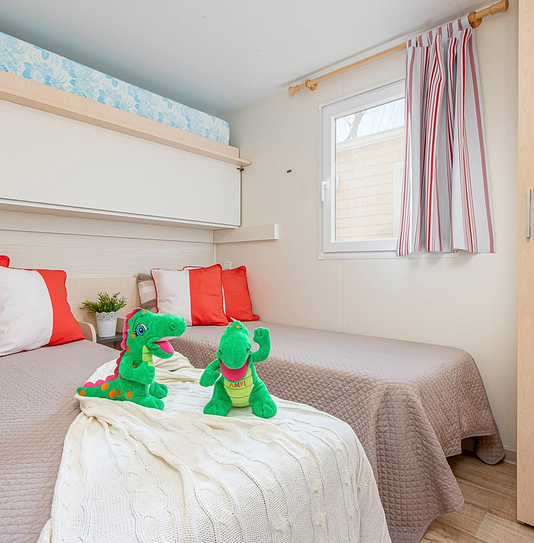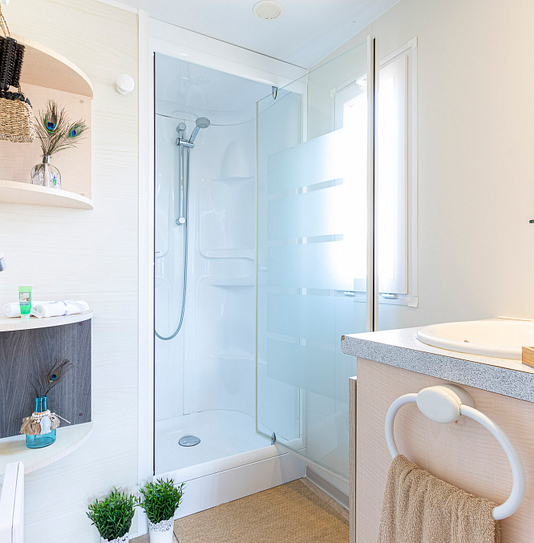 The Sunny Dog mobile home can accommodate 5 to 6 persons, thanks to its 2 bedrooms and sofa bed. The Sunny Dog has a parking space, air conditioning and a television. Inside, the kitchen is equipped with everything you need for your holiday. To top it all off, beds are made on arrival. There is no longer any reason to delay going on holiday as a family or with friends with your dog!
Our URB apartments also welcome dogs. They are located right opposite the campsite.
Our supermarket offers you numerous food choices for your dog.
On our Amfora campsite, make the most of the sanitary blocks with dog showers. After a wonderful day by the sea, the dog showers are perfect for cleaning the beach sand off your animals.
Lastly be aware, so our campsite has impeccable cleanliness, we've provided dog waste bags over the entire campsite.
The 225 m² dog agility course
in the heart of our campsite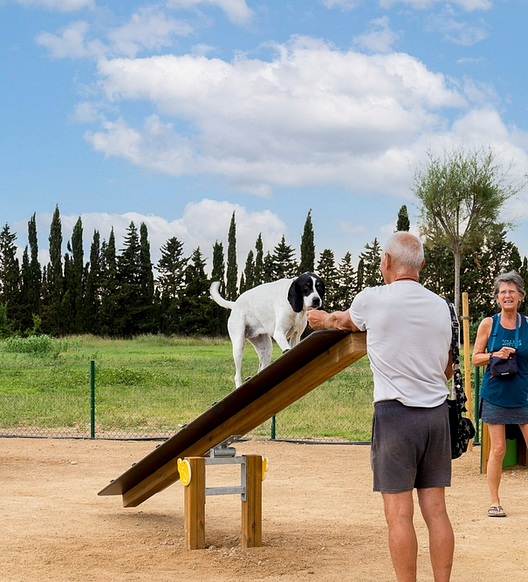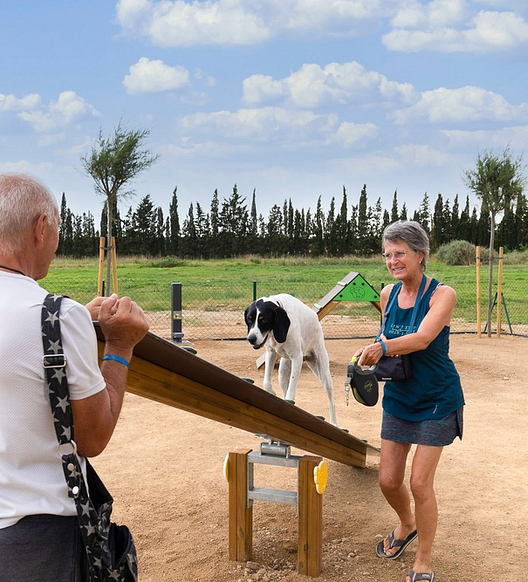 With a surface area of 225 m2, the dog agility course on the Amfora campsite is the perfect space to both amuse your pets, and test their physical ability.
Having 5 different dog facilities, your pets will be able to weave, jump or even run in the company of other dogs.
The area consists of a "dog slalom", dog see-saw, fence and tunnel: perfect games to test your pets' agility.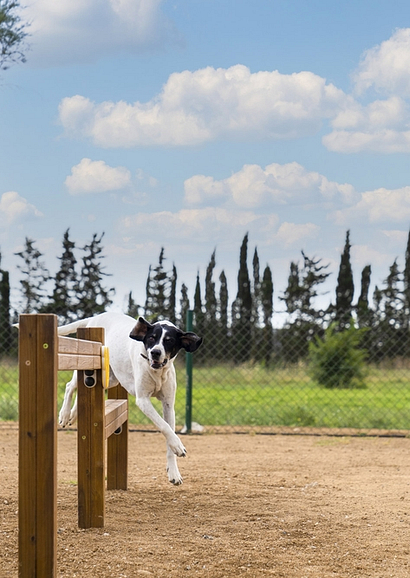 After a day at the beach or on a trip, take advantage as a family or with friends of a relaxing interlude in the heart of our dog course, admiring your dogs making the most of a moment of fun.
What are you waiting for to book a holiday rental on our campsite, and enjoy the dog services we provide for you? Between food, the dog agility course and specialist sanitary facilities, your dogs will be treated like royalty on the Amfora campsite!
The + services on the Amfora campsite
The other on-site services
Security service 24/7
Our security teams ensure, both day and night, that no disturbance will disrupt the peace on your camping holiday.
Swimming lifeguards
For both the very young and the most aware, a team of swimming lifeguards enables you to make the most of the delights of water in complete safety.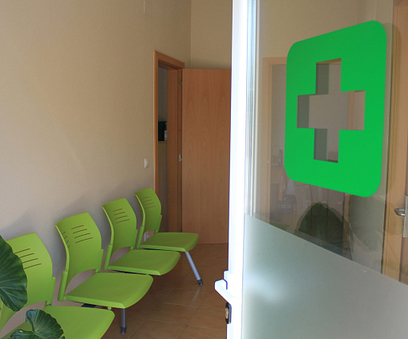 Medical centre
In the event of injuries, there is a doctor on the campsite. Our doctor can see you, being on-site for one hour every day of the week.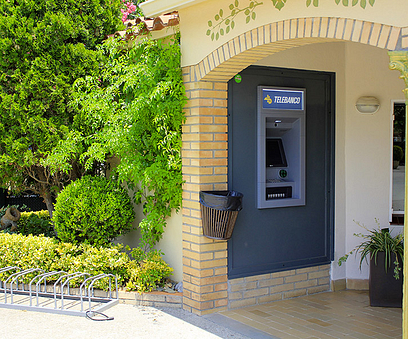 ATM
2 ATMs are available on the campsite.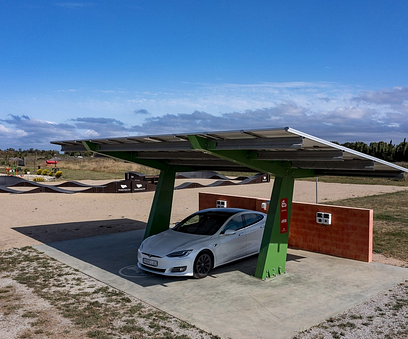 Electric charging points
Rapid charging points are accessible for electric cars.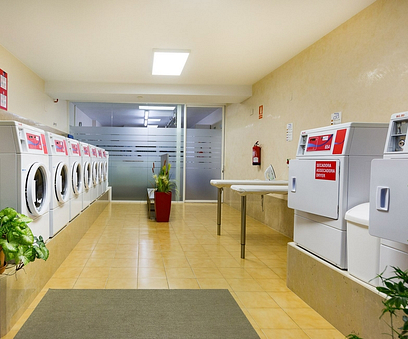 Launderette & laundry
Two laundries with everything you need, are available on the campsite